Specials
Please review our great specials going on now! After you have found what you are looking for email oceanpromo@aol.com or click on the contact us link and talk to a representative for a quote.
If you are working on event let us help you plan it out. Just go to the contact us link and let us help you.
Wine Charms
Custom Design/ 4 color process Wine Charms & Cell Phone Charms
Economy Lanyards
Economy Lanyards that really Stand Out
Sports Cups
Cup Promotions For Sports
Wine Openers
Wine Openers Now Only $1.89!
Special Pricing for Non Profit
We have special pricing on all items for non profit charities, fundraisers, and organizations. If you're involved, and looking to promote your cause, email or call me @ mattfrankel@me.com or 732 299 0003 to receive special discount pricing on any item.
HealthCare Sale
Bandage "Bro" Dispenser Slide lower compartment open to easily dispense bandages Holds 6 Bandages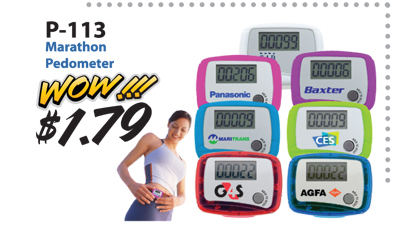 Marathon Pedometer
Marathon Pedometer as Low as $1.79 ea